Wix Alternative For Building Composer Websites.
In this article we take a look at how Tunebud compares to Wix.
8/15/2023

Many Composers attempt to set up a professional site via Wix every day. Often Composers get very frustrated in the setup process and often end up with results below expectations. The drag and drop builder may seem like a nice idea but you often end up with SEO problems, slow load speeds, and messy layouts.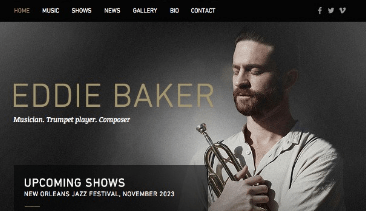 Specialist Website Builder For Composers
Unlike Wix which is more of a general website builder, Tunebud is made especially for composers and comes will all of the standard features that you would expect for a music library or composer portfolio site.
Much of the functionality of a Tunebud site cannot be replicated on Wix whatever you try. Yes, you can embed Soundcloud tracks or use Wix's own music player but Tunebuds music track management system allows you to not only play music from your site but organize it with tags, filter by genre, bpm and more.
Having your own professional player makes you look much more impressive and trustworthy to clients. Features like the filters and search will make it much easier for them to navigate your catalog.
If you want to build your own music library or composer website there isn't a better choice than Tunebud.
Other cool features from Tunebud include:
A dedicated blog with categories.
Track download delivery after purchase and via download.
Bulk upload and download settings.
The other great thing is all Tunebud Packages are ad-free (unlike Wix)!